Here are Koenig's conformation pics. He's 2 (well, in 5 days!) Male, neutered. 27'' at the shoulder and 85lbs.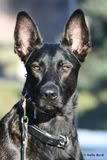 I realize you can't really see his front end build here, but it's the best I can find.
I'll get a better one soon. He's very very wide, but his legs (suprizingly) are straight, and his feet are forward, not pointing in/out.
This one is just cause I haven't shared it here yet, and it's funny.